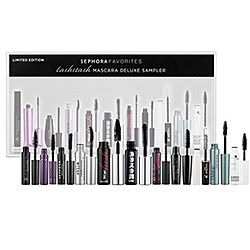 I love cosmetics, mascaras is one of my all time love!!
Which was why i couldn't help myself but to place order immediately for this amazing sampler pack.
Pack was priced at USD39 for 11 pieces (wait, i'm getting my calculator) Oh thats USD3.54 each... Definitely a great deal if you are like me always searching for a better choice!
It contains 11 wonderful pieces from their all time best selling brands:
This set contains:
- 0.1 oz Anastasia Lash Lifting Mascara
- 0.1 oz Tarte Lights Camera Lashes
- 0.1 oz Sephora Atomic Volume Mascara
- 0.24 oz Stila Multi Effect Mascara
- 0.14 oz Benefit Bad Gal Mini
- 0.2 oz Bare Escentuals Buxom Lash
- 0.13 oz Too Faced Mini Lash Injection Pin Point
- 0.12 oz Smashbox Bionic
- 0.07 oz Lancome Cils Booster
- 0.085 oz DuWop Lash Venom
- 0.14 oz Korres Provitamin B5 and Rice Bran Mascara
Do note, all mascara are in blacks yes, no other colors...
hopefully they will comes up with another set of sampler set with lotsa blue or coffee...
If you wan to get yours, heres the link: